A few weeks ago I was walking around Mayfair and I stumbled upon a restaurant which was hidden from the main streets. I was immediately intrigued as it was standing alone, tucked away amongst the glam of Mayfair.
I loved the inside lay-out as it looked really cool and interesting. The walls were covered top to bottom with art work from Miro and Picasso which gave me the feel this place was packed with culture.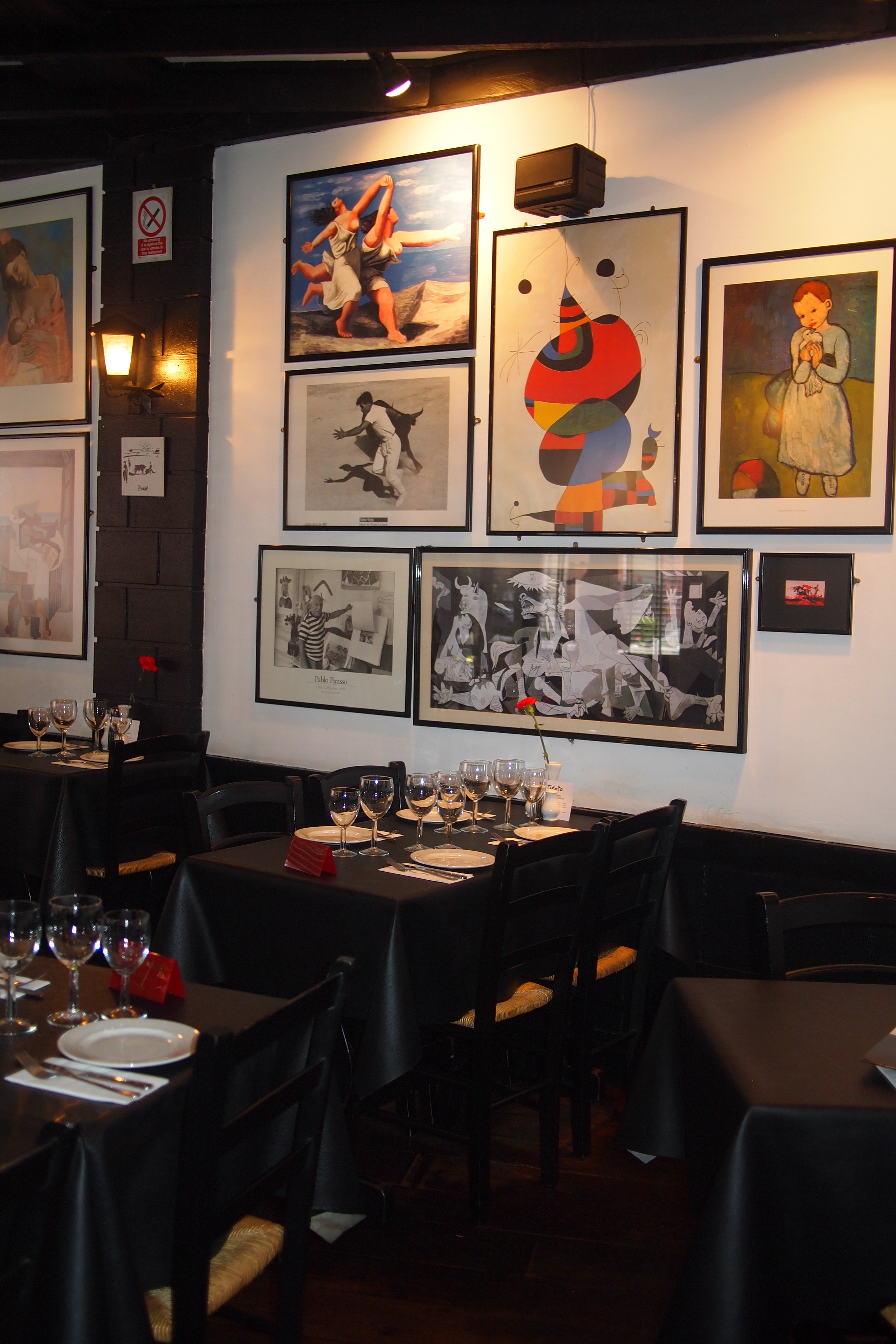 As I walked closer to check out the menu I noticed it was Spanish Tapas, great I LOVE Tapas and hadn't been to a really good Tapas restaurant since Barcelona.
Could this place provide a Spanish retreat.....which we all need in January!
El Pirata Spanish restaurant in Down Street exudes Mayfair style. Matías Costa/©ICEX
When I got home I looked up the restaurant and read the reviews, they were fantastic and lots of people had commented on how authentic the food was and how it was very reasonable and NOT your average Mayfair prices.
This was a real hidden gem that I had not heard of before but I had to go and see for myself.....
I booked us a table for the following Saturday night.

I was really excited to see what this new find had in store for us, I love discovering new restaurants and love it even more when they deliver!

After banging on about it all week to Andy, Saturday finally arrived.

The restaurant is located about 5 mins from Green Park tube, it's secretly located in the back streets which immediately makes you feel like you're going somewhere really special and unique.

As we entered we were greeted by a loud, bubbly, Spanish manager who welcomed us in a very friendly manner, he asked us if it was our first time there.

We explained it was and he smiled, as if to suggest we were in for a real treat and a good night!
Oh yes, I was looking forward to a nice cold glass of cava :)
I ordered the house, it was very refreshing and light.
The bar staff were really friendly and even said we could eat on the bar if we would like.
I looked around and saw a few people were and thought it's a great idea if you wanted a few casual drinks and dishes.
Scanning the restaurant more it became evident of the lovely mixture of clientele this place attracted, lots of nice couples, some groups of friends, a few families and there was a birthday dinner happening down stairs. I loved the spiral staircase leading down to the lower level, the dynamics of the restaurant gave it a very buzzy atmosphere
We both absolutely loved it, but we were yet to try the food....
After our drinks we were shown to our table, it was a great table, exciting views from both sides, don't you just hate it when your facing a wall!
Our waiter came over and introduced himself.
We asked him to recommend a bottle of wine for us.
As we drink mainly French reds we explained we didn't know much about Spanish wine and the waiter pointed out a Pinot Noir for us which was around £30, it was nice of him to not recommend a really expensive wine as some waiters do.
The tricky part about Tapas is choosing the dishes as there are so many and they all sound delicious!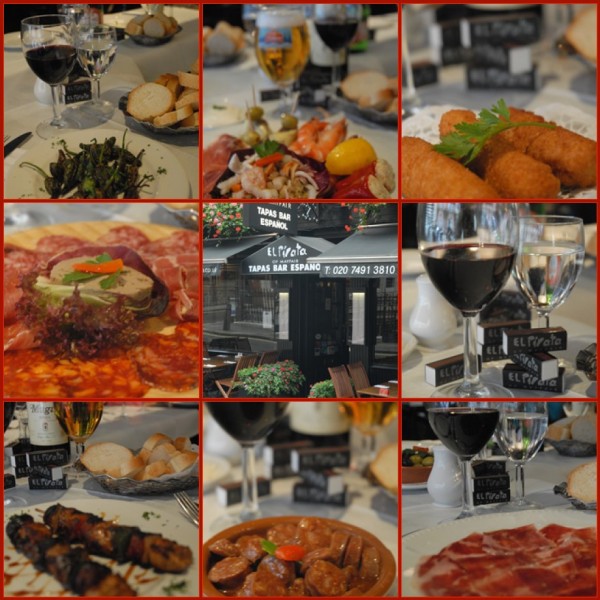 We both picked out our favourites...
I chose -
Octopus brushed with olive oil and paprika ,
deep fried medallions of monk fish,
marinated chicken skewers with chorizo
and
aubergine stuffed with vegetables & topped with cheese.
Andy chose -
Chicken li

vers in white wine & onion sauce,
meatballs,
prawns in olive oil, garlic & dry hot chili peppers
and then we both decided to try the
baby eels
in olive oil, garlic & roasted potatoes..
Yes we ordered way too much food, as we always do, but it was our first time there and we wanted to try everything. Next time we will definitely order less.
Each dish was seriously TASTY, we were really impressed. It was at the standard you would expect in Spain.
The baby eels? Delicious! I was a little apprehensive but they were yummy, nice and salty.
We took our time and the waiter brought out 2/3 dishes at a time.
The wine was OK, nothing amazing but it went well with food....at 14% we were both pretty tipsy by the end which is when a cheeky dessert was required :)
I had fried banana served with honey and ice cream and Andy had c
reme brulèe with a crunchy caramelised top.
They were both gorgeously sweet and really hit the spot after our meal.
We had so much fun and really enjoyed ourselves, I will be recommending this place to everyone and going back very soon to try more dishes!
They also do a dinner set menu at either £16.35 per person or £20.95 pp, depending how hungry you are.
I think that's excellent value for money.
Check out the website and get booking :)
http://www.elpirata.co.uk